Below is a Eaton/Fuller RTLO18913A that was installed around the first part of April. It's out of an owner operator rig. His original trans took
a dump at 736,000 so he had this one installed a rebuilt from a national rebuilder. I won't print the name but the color of the case will give
it away. The input gear is totally pealed not a tooth left on it. He wanted me to look at it because warranty was denied. Pictures were taken
and sent in by the dealer who installed it. It came back as transmission was shock loaded which caused failure.Warranty Denied.
The guy who owns this truck is a good driver and easy on his equipment. But this is not the first of this brand that I have seen with a toasted
input gear. This rebuilder uses aftermarket gears and shafts. He thought maybe he would have me rebuild it but after looking at it-----
it will take the front three gear sets and counter shafts-too much money it's a core only. Note in the one picture that the dealer shop
couldn't even install the shift-bar housing correctly. They didn't remove the air slave and plunger pin first before removing the shift bar cover.
When they reinstalled the shift-bar housing and just bolted it down it broke the plunger pin and put a slight crack in the case plus damaged
the bore. What do you guys think caused this?
It pays to only use genuine parts.
Truck Shop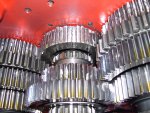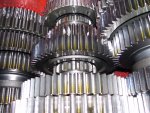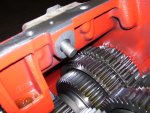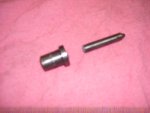 Last edited: