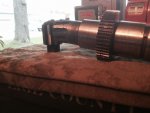 I bought a 2005 185 Hino box truck. I only had it 1 week and the main shaft in the transmission broke. Damaged the input shaft and the output shaft. The output was repairable.
Anyone ever had this happen before? I'm wondering because Hino stocks all these parts and makes me wonder if it's a common problem?
It's not like it's a wimpy shaft it's pretty heavy duty. the one that broke looks like its been twisted and eventually broke.
Wasn't all that bad all said and done but a little frustrating, had to have it towed off the highway.
Martin
Last edited: