I set out earlier this summer to find a setup that could haul my 312 and my 150 since I am a one man show. The trailer had to be 8'6" wide because my 312 is actually a wide load at 8'10". It had to have hub piloted wheels(no more daytons for me). I wanted a detach 35 ton with a beaver tail and ramps for rear loading but I couldn't lock one down. I quickly found that lowboys are very expensive. I also found that you can't find exactly what you want on a budget, or period for that matter. Just so many different layouts out there. Turns out that on the trailer I bought that I have less than a foot to spare with both machines. About 6" between machines and 6" from the ramps.
The picture below shows what I did for months trying to figure out what would work. I would paste trailers and equipment together to see if it would work. Sorry the pic is small. I did a lot of measuring on the machines and trailers.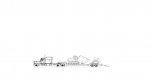 Finally this week I got to weigh it all. I was heading to a far away job and weighed it just exits before the weigh station. I couldn't believe how heavy it was. Luckily I didn't fill it up with 260 gallons of diesel, only half. My 312 is an L (long undercarriage) with the wide pads and it has a 160 bucket on it with a thumb so it is heavy. The 150 is enclosed with a little extra guard on the bucket. They both might be heavier than what the manufacturers post. I did have 4 people on board and lots of tools and material. I got the green light coming and going through both weigh stations. I guess my axel weights are good. This thing is long and in my work environment it is huge, but I've managed so far. I have gone over quite a few curbs because it is so long. My questions are: Does moving the 5th wheel change much as far as clearing corners? I have a few theories. I can adjust about 30"+. I had just moved it up a foot from the original owner. Are my axel weights safe? Does it look safe? I think it looks balanced, but the 150 does sit way back on the trailer. On my tag a long trailer I would never ever hit curbs because on the 17.5" tires a blow out would soon follow I'm told. Are these 22.5" tires tougher to handle a curb here and there while loaded down?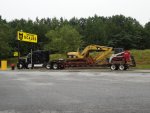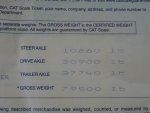 This is the trailer I had a down payment on but had to pass up the finance deal because it was too much and my %rate was high. I would love to have this trailer but just not right now. The rear wheel deck looked wrong and weak to me also. I never saw it in person though.