The other day I saw a truck going down the road that I've seen since I was a kid. It's very unique, called an oil distributor on a Chevy cabover chassis. As you can see the color is unique too and is how I knew it was the same truck! The truck is designed to spray a latex based oil on the road which is then covered by crushed stone, a process which we call "oil & chip". It's an economical alternative to asphalt and is more flexible due to the latex which is desirable here in the northeast with our cold winters and frost.
On formerly dirt roads, a process called "penetration" was used as a first form of pavement, about 4" of 1 1/2" crushed stone was put down with a paver and rolled, then the oil distributor would pass over and drench the stone with the latex oil, enough to "penetrate" the full layer. Next it was coated with 1/2" crushed stone by dump trucks with spreader gates on them traveling in reverse. The gates had a little step welded on so a man could stand and feather the opening of the gate for the proper depth of spread stone. Next another coat of oil followed by a layer of 3/8" stone. If they really wanted a smooth road there would be yet another coating of oil followed by 1/4" stone.
Periodically the finished roads would require a topcoat as the surface wore. On real hot days the oil would rise up through the stone and blister. The oild distributor would spread a layer of oil and the dumps would coat it with 3/8" or 1/4" depending on the desired finish.
I saw the truck again today and followed it until he stopped. I used to work for a company back in '80 that hired this same truck to surface some local roads. As I mentioned, I could remember seeing it in my own neighborhood as a kid when our street was resurfaced. I haven't seen it for I bet 20 years, it was like seeing an old lost friend!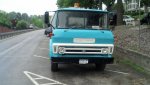 The chassis is a 1971 Chevrolet T/60 with a gas engine and 5 speed/2 speed rear. The fastest it went when I was following was 45mph.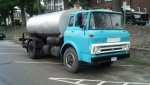 The truck has propane burners to keep the oil hot so it will flow through the spray jets. There's a second tank on the other side. Just under the propane tank you can see the lower half of a wheel that swings down to the pavement to measure the truck speed and calculate the amount of oil to spray for proper coverage.